Why I wore extravagant dress to Oscars — Tems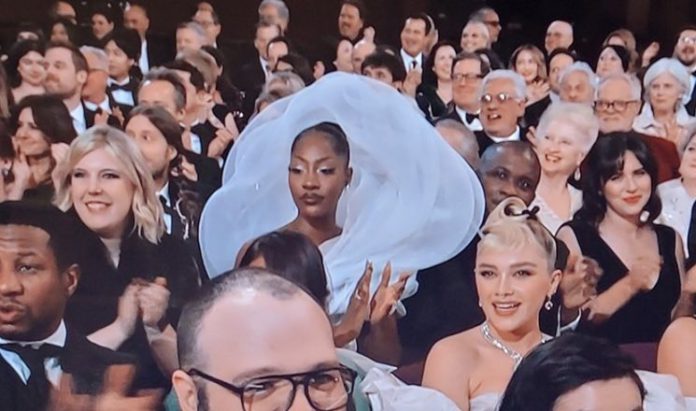 Tems went all out with her 2023 Oscars outfit — and has zero regrets.
After hitting the red carpet in her opulent, stop-and-stare white Lever Couture gown, the singer-songwriter, who is the first Nigerian person to ever be nominated for an Oscar thanks to her work alongside Rihanna, Ryan Coogler and Ludwig Göransson on the Black Panther: Wakanda Forever hit "Lift Me Up," took her seat in the auditorium and accidentally blocked the view of those directly behind her.
In a recent interview with Harper's Bazaar, the artiste opened up about the eye-catching, meme-sparking design.
"Two years ago, I would've said no to this dress," Tems (whose real name is Temilade Openiyi) said, adding, "but it's my first Oscars — I am going to go all out. I really wanted to make the most of the day. The dress is also my way of celebrating my work and the people around me, celebrating my country, and celebrating the people that are rooting for me. This dress says, 'Yes, yes, I am here!'"
After a photo of her sitting in the crowd went viral online, the internet was quick to comment on the spectacle — even offering up some think pieces on what the scene could mean.
While some saw the style choice as just "rude" because of it's size, others thought that it should've been adjusted once she walked the carpet to respect the view of people sitting behind her, one user poking fun at the moment while still acknowledging its mass said: "LMFAO I know whoever behind Tems is heated."
On the other hand, many respected the bold style choice. One Twitter user said they loved how "she is taking up space as a Black woman," which is something Black women "have traditionally not had access to."
Regardless of the takes, though, everyone — Tems included — agreed she was "here" and she "stole the show."
In the same Harper's Bazaar interview, the singer's stylist, Dunsin Wright, also reflected on the magnitude and virality of the moment.
Saying, "At the start of the year, Tems said she's entering a new era. That played on my mind as I considered the perfect outfit for the Oscars. We wanted something that felt quite delicate but powerful, something that made her feel ethereal."
Continuing, "I had spotted Lever Couture a while ago after their fashion show in Tokyo and instantly knew I wanted to work with them. It was a bold option, but I was confident that if anyone could wear it the way it needed to be worn, it was Tems. She is so graceful and confident, and she makes every piece her own."
The singer topped off the look with metallic silver eyeliner and bold lip liner that went well with the futuristic theme of the look. Her makeup artist Kevin Luong explained, "We wanted to enhance her natural beauty by highlighting her features and making her eyes the focal point of this glam."